The 2022 Toyota Sequoia TRD Pro's off-road readiness
By Product Expert | Posted in Toyota Sequoia on Monday, October 25th, 2021 at 9:24 pm
How off-road ready is the 2022 Toyota Sequoia TRD Pro?
If you are in the market for a full-size SUV, you will surely come across the Toyota Sequoia as a worthy option. This is thanks to the reliability and quality it offers. The Sequoia is built to stand the test of time while also offering an enthusiastic driving experience in the process. Not to forget its rugged and sturdy exterior. Talking about sturdy, how off-road-ready is the 2022 Toyota Sequoia TRD Pro? We at White's Lima have compiled this article to give you a glimpse into the 2022 Sequoia TRD Pro's off-road features.
The 2022 Sequoia's 5.7-liter V-8 engine that produces 381 horsepower and 401 pound-feet of torque, is as sturdy as its exterior outlook. Feeling the need to purchase the new 2022 Toyota Sequoia? Contact us today to experience it first-hand.
---
[ Know more: What's new in the 2022 Toyota GR Supra? ]
---
Off-Road Features of the 2022 Toyota Sequoia
The Sequoia offers a variety of trim levels that are intended for different types of usages. And when it comes to off-roading, the TRD Pro trim is designed to answer this audience. To achieve this, the Sequoia TRD Pro comes with an extensive set of off-road-specific components such as:
The 2022 Sequoia TRD Pro's black forged aluminum 18-inch BBS® wheels wrapped in all-terrain rubber does the job thanks to its reduced unsprung mass which improves cornering response and enhance overall ride quality.
Rigid Industries® Fog Lights: These fog lights project long-range high-intensity light while drawing minimal power in the process.
TRD Shocks: The Sequoia TRD Pro's FOX® shocks are specially manufactured for off-roading. The front 2.5-inch internal bypass shocks include seven compression zones and two rebound zones while the rear shocks have a 2-inch setup. Also, an additional 18 mm of rebound travel gives added off-roading capability.
The Sequoia TRD Pro's ¼-inch-thick aluminum TRD skid plate helps in added protection to the undercarriage.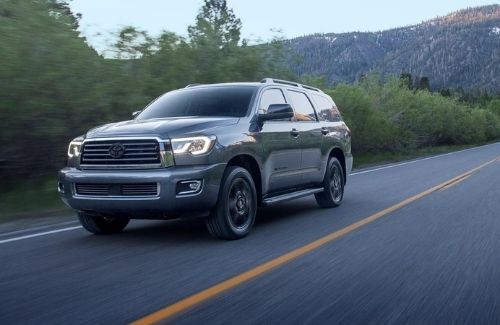 ---
[ Know more: Watch this elaborate 2022 Toyota Corolla Cross Walkaround Video ]
---
Unlock new possibilities with the new 2022 Toyota Sequoia from White's Lima in Lima, Ohio
The Toyota Sequoia can get your job done while also keeping you cozy when doing so. And we at White's Lima in Lima, Ohio can help you get one. Check out our online collection of new Toyota Sequoia models on offer. You can also contact us to schedule a test drive of your favorite Sequoia variant.
Vehicles Arriving Daily - Hundreds More on Order
We'll Get You the Car You're Looking For.
Shop Now